When the University of Michigan, a Big Ten university located in Ann Arbor, MI, needed a new ITS solution to enhance service quality and increase customer satisfaction, they knew they needed a true ITS partner, not just another vendor. They needed a partner who was a proven integrator, had experience with deployments on systems their size and was an expert in the field.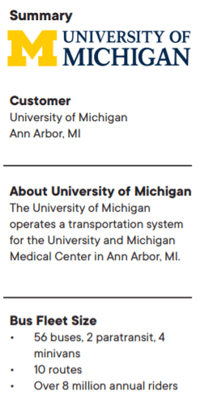 Challenge
For five years, the University of Michigan struggled with a
competitive ITS solution that could not seamlessly integrate with their scheduling system. This created headaches for dispatchers trying to reference run sheets to determine on-time performance as well as manual processes for drivers tasked with switching headway signs and manually triggering vehicle announcements. As such, the University of Michigan needed something new. They required a full ITS solution that could provide their 8 million annual riders with user-friendly, reliable, and accurate real-time passenger information and integrate with their existing solutions, including scheduling and headway signage for dispatcher and driver ease of use. And they needed a reliable vendor with 24/7 support to install this solution quickly.
Solution
The University of Michigan selected industry leader Clever Devices to provide CleverCAD,
BusTime, Ridecheck+, Disruption Management, and CleverReports.

Results
Transparent Partnership
The University of Michigan required ITS installation to occur while the majority of their riders were off-campus. With such a tight timeline, Clever Devices and the University of Michigan had to build a partnership based on trust and transparency; any issues that arose, the University of Michigan knew precisely what to expect. They could rely on their team members at Clever to find the answers to their problems quickly and accurately, resulting in a successful launch of the system in January 2020.
Proven Integrator
Clever Devices came into the project with a proven success record of integrating with systems similar to the University of Michigan. Our years of experience allowed for the project to continue smoothly and on schedule.
Ease of Operations
With CleverCAD, dispatchers can now hover over any vehicle and see their current on-time performance, allowing for increased visibility into the day's service performance. With the added benefit of Disruption Management, the University of Michigan could now smoothly perform detours when road work occurred or add vehicles to service after a football game, all while keeping their passengers informed.
Accurate, Easy to Access, Real-time Information for Riders
With the Clever Devices system's installment, riders now have access to BusTime, our real-time passenger information solution, on their mobile devices and web browsers. This information provides students and staff access to real-time arrival predictions and other types of service bulletins, improving communications and contributing to an overall improved rider experience.
Increased Driver Satisfaction
With Clever Devices' fully integrated solution, drivers no longer needed to manually switch their head signs with new information or personally trigger the onboard vehicle announcements. With
their new automated Clever ITS solution, drivers are able to use technology more efficiently on the bus.
Click here to download a PDF version of the case study.
For more information on Clever Devices' full suite of ITS solutions visit www.cleverdevices.com