Communications
CAD-Agnostic VoIP – The Affordable Communications Solution You Need to Know About
Looking to complement, enhance, or replace a traditional land mobile radio system or find an affordable alternative? Celrado is the smart choice.
---
Communication is key when it comes to connecting operations control with your fleet on the street. However, if your agency currently depends on a costly, yet aging land mobile radio (LMR) system to relay important information between operators and dispatch, you understand all too well the frustration of dealing with unavailable frequencies, dropped signals, and limited coverage areas. And, if you've looked into replacing that aging system, you've likely been shocked by the exorbitant cost of doing so.
Celrado- an affordable alternative to traditional LMR systems
Fortunately, there is another path forward for flexible, reliable, and cost-effective communications. Celrado is an IP-based unified mobile communications system that supports API integration with any CAD/AVL system and offers all the functionality and features of a traditional, modern LMR system at a fraction of the cost, making it an affordable option for agencies of all sizes. With radio-like features and a similar console, your end-users will find a friendly and familiar user experience with all the features and functionality of previous systems, making for an easy transition and all but eliminating the need for time-consuming training.
Integrating a CAD/AVL System with Celrado for Seamless Communications
Of course, Clever Devices' own CAD/AVL system, CleverCAD, integrates seamlessly with Celrado, but what if you use another CAD/AVL solution?
You can still leverage all the advantages of Celrado for your mobile communications without the added investment of overhauling your entire LMR system. Built to be flexible through the use of licensed API's, any CAD/AVL system can integrate with Celrado, allowing you to take advantage of all the benefits of our IP-based mobile communications solution while minimizing the impact of disruptions on your existing processes.


Decreased Costs and Reduced Coverage Interruptions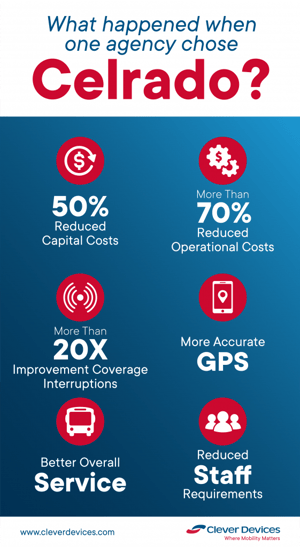 When you deploy an IP-based solution like Celrado, in addition to reducing the capital costs associated with infrastructure maintenance, there are other significant benefits to be realized as well. For instance, if you're paying for contract employees employed by your LMR vendor, those costs go away; costs for facilities maintenance and IT are significantly reduced or eliminated entirely.
Furthermore, if you're LMR system is outdated and prone to frequent dead spots and coverage issues, Celrado offers a significant improvement in coverage interruptions leading to quality of life improvements for your agency staff.
Move to new age technology from an aging network- without driving up costs
Whether you're looking to complement, enhance, or replace your traditional land mobile radio system or find an affordable alternative to an LMR, Celrado is your only choice. With full voice and data redundancy, a flexible and familiar user interface, and traditional radio-like features at an affordable price, moving from an aging LMR network to new age technology has never been an easier choice.
Learn more about Celrado or download the eBook for a deeper dive.