When Brampton, a city in the Canadian province of Ontario, put in place its vision for the future, enhancing its public transportation infrastructure played a critical role. Over the past five years, Brampton has implemented transit technology solutions that have contributed to achieving that vision. In 2019, the city was awarded a Smart City Award for its deployment of Automated Vehicle Monitoring (AVM) from Clever Devices.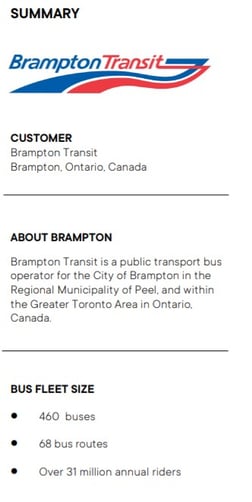 Challenge
Prior to the implementation of AVM, Brampton's maintenance processes were almost entirely
manual. When a vehicle had a mechanical or electrical fault, the agency was dependent upon drivers to report it. Repairs were only made after there was an issue. Often, that issue resulted in the bus breaking down in service and needing to be towed to the garage for repair. This resulted in inconvenienced passengers and significant service delays. Additionally, the agency had no way to detect fleetwide issues that could possibly be covered by the manufacturer's warranty if exposed in time. Without AVM, the agency had to wait until those issues accumulated, causing significant service disruptions and increasing repair costs. Finally, Brampton had no automated way to disable active regeneration on diesel-powered buses inside their garages resulting in dangerous air quality and a safety hazard to workers.
Solution
AUTOMATED VEHICLE HEALTH MONITORING—AVM®
AVM® has helped Brampton automate many of its maintenance processes and increase the reliability and state of good repair of its fleet. The system will ultimately help Brampton to increase the lifecycle of their fleet and because it reduces the likelihood of a mechanical breakdown on the road, it reduces the road calls that lead to unhappy, inconvenienced customers.
Results
FROM RE-ACTIVE TO PRO-ACTIVE MAINTENANCE
Because AVM automatically reports mechanical and electrical faults, the agency is no longer dependent upon its drivers to report faults that occur while out on the road. Maintenance crews can see the faults and pro-actively address them, reducing the likelihood that a fault goes unreported or a vehicle with an issue is accidentally sent into service.
REDUCED ROAD CALLS

AVM enables Brampton to address mechanical breakdowns before they occur resulting in fewer service crushing road calls and fewer unhappy, inconvenienced customers.
REDUCED MAINTENANCE COSTS
The visibility that AVM provides into the health of the entire fleet enables Brampton to better manage its entire maintenance process, control overtime costs and identify warranty repairs faster.
IMPROVED INDOOR AIR QUALITY AND WORKER SAFETY
With AVM, Brampton was able to set a geofence around the perimeter of the depot, automatically disabling the regeneration functionality prior to the bus entering the building resulting in improved indoor air quality and reducing the likelihood of injury to maintenance workers.
Click here to download a PDF version of the case study.
For more information on automated vehicle health monitoring visit www.cleverdevices.com/products/avm/