Every now and again we read about dubious characters or a transportation enthusiast with a love of buses and trains boarding a vehicle and taking it for a ride. In August of 2016, a man boarded a parked Calgary transit shuttle bus while its operator was on a bathroom break and drove it away.
That same year, a Staten Island, New York man took off with an empty New York City bus that had been parked at the Staten Island Ferry Terminal. In 2017, a TTC bus was stolen from a Toronto garage. The thief took it for a ride through the city before parking it outside his home and retiring for the night. One transit obsessed man with Asperger's has been arrested over 25 times in the New York City Metropolitan area for boarding and attempting to drive away with buses and trains. Just two months ago in August, a Hawaii County mass transit bus was stolen from the depot and the agency didn't immediately know about it. In all these cases, the situation ended with an arrest and relatively minor damage to the vehicle.
But, let's think about this. Let's consider what could have happened? Forget the fact that without proper training, driving a mass transit vehicle is near impossible; the potential for endangering pedestrians, other drivers and property is very real. But, what if the thief has darker motivations. What if their plan included creating harm to themselves or worse, to others. What if the buses they chose to drive away with were filled with unsuspecting passengers? What if they considered a public bus the perfect weapon?
In September of 2001, plane cockpits didn't have locks on them. If they had, hijackers would not have been able to overtake the cockpit and use three commercial airliners to slam into the World Trade Center and the United States Pentagon killing thousands. Prior to that fateful day, nobody had really considered the safety concerns of an unlocked cockpit. In the summer of 2016, a terrorist drove a box truck into a crowd of unsuspecting pedestrians who had poured onto the streets of Nice, France to celebrate Bastille Day. The seaside promenade was closed to traffic that day but nobody had given a thought to block the entrance with anything more than a wooden barricade. 84 people were killed. As France mourned, other cities took notice. This past New Year's in New York City's Times Square, every street in the area was blocked off by large 16-ton garbage trucks filled with almost that much sand. Strategically parked, they shielded revelers from prospective rogue vehicles driven by someone with depraved intentions.
Today's buses have no locks and no keys. Just about anyone can board a bus, start it up and drive away. To think that someday, somewhere an evil character will board a public bus and use it for illicit, depraved activity isn't far fetched at all. The question is not will it happen, it is when.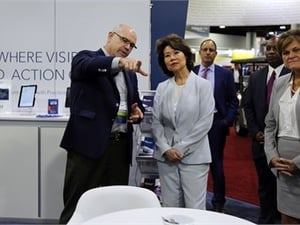 At this month's APTA Expo, we were fortunate to be able to spend a few moments with the U.S. Secretary of Transportation in our booth where she reinforced her earlier general session comments about her commitment to safety and security of public transportation riders. "We are committed to keeping our nation's transit systems safe, reliable, and accessible," she had told a packed audience during her earlier remarks in Atlanta.
So, as we think about the world we live in, we need to consider our obligations to protect not only the riders we serve but the public at large as well. We must find ways to ensure the safety of all those who trust public transportation to get them where they need to go. Using information, foresight and most of all technology, we must be smarter and more cautious than ever before. It's our duty to do whatever we can to learn from the unfortunate incidents of the recent past to prevent the tragedy of the future.
Learn how to protect your vehicles from unauthorized use.
Link to Secure Bus Access Video