Data plays a critical role in decision-making, and there is nothing more important than having the information necessary to make knowledgeable decisions. In today's ITS ecosystem, that data can be served up in real-time or delivered after the fact. To understand why an agency needs both historical reporting and a real-time solution, we must first understand the difference between the two types of information and the value each brings.
Real-Time Data
Access to real-time performance data lets you face the fast-paced nature of transit head-on. By providing visibility to service performance as it unfolds, your leadership, operations control, IT, and customer service departments can make the quick decisions necessary to correct or modify situations speedily. Real-time data is immediately actionable and often served up on a real-time dashboard that can be viewed by a cross-section of your organization. Each department can monitor different KPIs and take different actions depending on their role in the organization. These accurate, real-time analytics can be vital to a modern support strategy and essential for managing your service in the moment.
Historical Analytics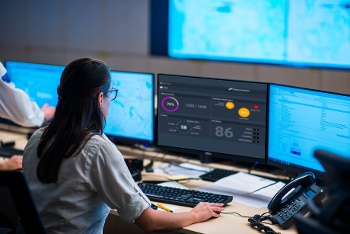 Historical reporting provides valuable information essential for efficiency enhancements over time. Armed with historical data, you can not only see how effectively your planned service was delivered, leading to more effective planning, but you're also able to identify opportunities for reducing costs. Traditionally, historical reporting data is available 24 hours after the service is delivered. This look in the rear-view mirror can reveal critical points of weakness and identify areas for improvement. Historical data can also help you uncover bottlenecks and points of inefficiency to help you deliver service that serves your riders more effectively.
Historical data is most useful for your planners and data analytics teams, who can use a variety of configurable reports to analyze the data and make recommendations for future service improvements.
Does My Agency Really Need Both Real-Time and Historical Reporting?
The short answer is yes, and here's why. Traditionally, to control costs, the data sent over the air in real-time typically only contains the necessary information needed to support your CAD operations and real-time passenger information systems. This data is also used to populate your CleverMetrix real-time dashboard. We call this CAD data. CAD data is valuable and accurate but is only a subset of the total volume of data points your Clever Devices ITS system collects.
We refer to the complete data set as IVN data. It is the IVN data that represents the true capability of our system. However, it would be both impractical and incredibly costly to send such large volumes of data over the air in their entirety. Instead, we use a sophisticated data management process to determine what data goes over the air in real-time vs what we store for a future transfer – a process that is typically done twice a day over WIFI – when the vehicle is back in the depot.
For a visual breakdown of the features and functions of real-time and historical reporting, see the chart after the blog for more detail.
The Bottom Line
Ultimately, while real-time and historical reporting tools support different workflows, each plays a role in helping you analyze the data your system regularly generates.
With real-time analytics, you get the ability to make agile, informed decisions quickly, in the moment to monitor and even improve service as it occurs. While real-time analytics supplement your historical overviews, they are no match for the type of intense KPI analysis required for more granular level insights that allow you to see the crucial trends that influence agency performance.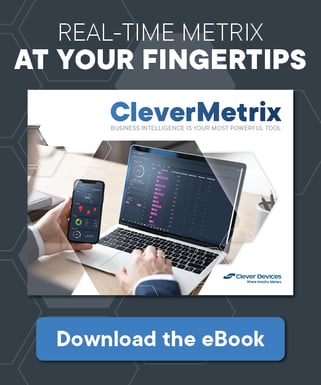 While there may be some cross-over between the two, it's best to think of them as analytical companions. Each data type focuses on precise outcomes, and both help your agency address issues and make decisions that improve how you deliver service to your riders.
For a visual breakdown of the differences between our real-time and historical reporting solutions, take a look at the chart below (you can click to open a larger version in a new window).
To learn more about what the CleverMetrix Real-Time Reporting Solution can do for your agency, visit our landing page to watch a quick explainer video, download our eBook and schedule a personalized demo.