As a provider of public transportation, you offer an essential service to your community - an affordable, reliable, sustainable, and convenient way to be mobile. But as your riders continue to explore other options like ride-hailing services or increased personal vehicle use, your agency may need to take an objective look at how you can make your service more appealing in the face of shifting trends in demographics, employment, and population.
The flexibility and on-demand convenience of other transportation options may seem more attractive to riders who perceive public transit as being unsafe, unreliable, inconvenient, or otherwise out of touch with the amenities modern riders expect. Onboard digital signage can help improve the perception your riders have of the services you provide.
Disruptions happen, but proactive communication can change perceptions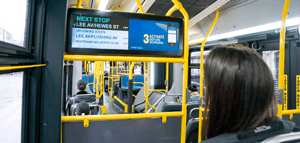 When inclement weather or traffic impacts your route and causes a service disruption, your passengers take note. If you keep your riders in the dark, they become frustrated, and even if it's not your fault, they will blame you. Their perception of your ability to get them where they need to go is negatively impacted.
Digital signage provides a quick and easy way to provide information to riders on the fly using a content management system (CMS). Communicating detours or service disruptions in real-time via onboard digital signage gives your passengers the information they need to make informed decisions so they can adjust travel plans. Additionally, because you're communicating the nature of the disruption and its cause, your riders are less likely to blame you for the inconvenience.
When disruptions are the result of an emergency, digital signage can also provide crucial information to keep riders safe. Integrating real-time data via RSS feeds allows you to update your passengers on things like weather, news, emergency alerts, and other delays contributing to their perception that you've got their best interests in mind.
Making rider safety and security a top priority for your agency
A study from the University of Minnesota of female public transit riders found a clear link between insecure surroundings and their perceptions of waiting time, creating a needlessly stressful passenger experience for a large portion of the population. Despite the unfortunate reality that criminals will try to take advantage of public transit to break the law, digital signage can help combat both negative perceptions and unsafe situations for your riders.
By streaming live security footage from the vehicle onto your onboard display, you increase the perception of security. Riders will feel more confident that their safety is a priority, and potential criminals, knowing their actions are recorded are deterred from committing onboard crimes.
Digital signage also allows you to continuously project safety messages ("If you see something, say something"), PSAs about rider etiquette and public safety contact information to alleviate rider anxiety.

Mitigating the modern passenger's aversion to waiting
In our culture of instant gratification, no one likes to wait, and studies show that your riders often perceive wait times to be significantly longer than they actually are. While on-time performance issues cannot inherently be solved with digital signage alone, riders' perceptions of wait times can be altered with the use of real-time information.
By communicating transparently about delays, digital signage can be an attractive and cost-effective way to help reduce rider frustration caused by construction, traffic, or other delays. Occupied time feels shorter than unoccupied time, and this holds true in public transit as well. In addition to providing service updates, onboard digital signage can also be used to entertain passengers and help them pass the time onboard by viewing engaging content.
Showing your ridership that you care
Another effective way to leverage onboard digital signage to improve your riders' perceptions of the job you're doing is to use it to showcase the many ways you're positively impacting the passenger experience. Not only is the investment in new technology an exciting service improvement itself, but that signage can be used to announce new service enhancements, community-related service updates (like free shuttles to summer concerts or sporting events) and provide riders with information on how to share their feedback with the agency.
CleverVision- Digital signage that delivers the right content at the right time
Your onboard digital signage solution has the power to connect your agency to your riders in a way that no other technology can. With CleverVision, you can provide your riders with the information they need to navigate their journey, deliver critical information, communicate service enhancements, connect your riders to local businesses and provide entertaining content that enhances their onboard experience. With a variety of features and functions built with transit in mind, CleverVision is the superior solution for onboard digital signage.
Learn more about CleverVision here.